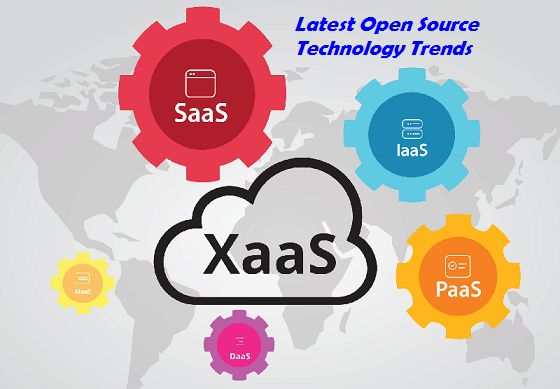 Let's look at the next trend coming in latest open source technology trends, 'XaaS'.
XaaS (an acronym for 'Anything as a Service')
XaaS is the terminology used for the technology through which a vast number of solutions and tools are delivered over the internet to its end users, rather than providing it locally or on-site. XaaS encompass all the three basic cloud computing models (Software as a Service (SaaS), Platform as a Service (PaaS), Infrastructure as a Service (IaaS)).
Read our blog-post based on 'Cloud Computing', here: http://www.nodericks.com/cloud-computing-hosting/
Since any cloud service can be included in XaaS,  a vast range of solutions can be listed as its examples.
i. SaaS – Like Google Apps, Microsoft Office 365, Salesforce: such software applications can be provided through SaaS to its users.
ii. PaaS – Like Amazon Web Services (AWS), Elastic Beanstalk, Heroku, Force.com, Google App Engine, Apache Stratos: all of them provide resources (preconfigured virtual machines (VMs) as well as other resources) for application development.
iii. IaaS – Like Microsoft Azure, Google compute engine, AWS elastic compute cloud: organisations can deploy and configure VMs hosted in the vendor's data center as well as manage those VMs remotely via IaaS.
iv. StaaS (Storage as a Service, also denoted as SaaS) – Provision of application, backup as well as data storage systems in the cloud.
v. DBaaS (Database as a Service) – Provision access to database-platform through the cloud. Public providers AWS, as well as Azure, have DBaaS offerings.
vi. MaaS (Malware as a Service) – Like VMWare AppDefence: make use of the public cloud to help organisations for robust protection from common cyber attacks (Ransomeware, Distributed Denial of Service (DDoS), etc.).
vii. Emerging technologies like these are other examples of XaaS – Network as a Service (NaaS), Disaster Recovery as a Service (DRaaS), Communications as a Service (CaaS). Additionally, some of today's brick and mortar businesses can also be included in XaaS, where real life services (like transportation, food delivery, etc.) are provided via leveraging digital technologies (Examples: Uber, Swiggy, etc.).
All of the emerging 'as a service' models can be included in XaaS.
Lower costs, as well as scalability, are two major benefits of XaaS. Maintenance being fully done by the provider,  end users can solely concentrate on their core-tasks through adopting XaaS. With the real-time availability of resources, data and other services, XaaS will enable its end users to deploy new technologies in lesser time compared to other technologies, quickly respond to market developments as well as easily access new technologies.
Any private, public or hybrid cloud model operated fully on open source technologies, providing SaaS, PaaS, IaaS, as well as XaaS, can be called as 'open source cloud'. Like any cloud services, security can be of higher concern in XaaS, which can be listed as its main disadvantage. So, adopting XaaS along with ensuring robust security can bring-in enormous business advantages, which makes it highly popular among open source technologies.
Go to the previous article in this series
Check out the next article in this series, here – Topic 6: Containers