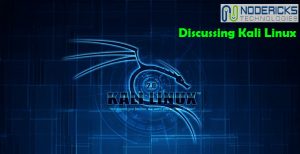 Kali Linux
is a debian-derived Linux distribution designed for 'digital forensics' (Often used as a synonym for 'computer forensics', it is the science encompassing the recovery and investigation of digital materials, related to cybercrime. Nowadays, it has been considered as a vast area covering investigations related to all systems which are capabale to store digital data.),  penetration testing, security auditing and reverse engineering. It was developed by 'Mati Aharoni', 'Devon Kearns' and  Debian expert 'Raphael Hertzog' of Offensive Security Ltd..
Kali Linux
has been developed, maintained and funded by computer security training company, Offensive Security Ltd. They built it through rewriting 'BackTrack', their previous information security testing Linux distribution based on 'Knoppix' (An operating system based on Debian designed to be run directly from a Live CD/DVD or a USB flash drive).
Kali Linux
was released on March 13
th
2018 as a total rebuild of 'BackTrack Linux' (A Linux distribution that is focused on security, based on 'Knoppix' aimed at digital forensics and penetration testing use.), in line with Debian development standards
. Features of Kali Linux
make it unique. It is,
Completely free – No one has to pay even a penny for Kali Linux; it is free just like 'BackTrack'.
Open source – Kali Linux source code is fully available for anyone who wants to tweak or rebuild packages as per their needs.
Exclusively customizable – Kali Linux has been designed to be customizable, all the way down to its kernel. This makes it easily customizable, even to the most adventurous users.
Developed in a highly secured environment – Kali Linux development team is limited to only a group of individuals who will commit packages and interact with repositories, through secure protocols.
Included with 600+ penetration testing tools – In Kali Linux, penetration testing tools were written in English and included after reviewing (i.e. By eliminating those testing tools which did not work and those which provided similar functionality as some other testing tools.) penetration testing tools in 'BackTrack'. Details can be found in 'Kali Linux Tools site'.
Having multilingual support – This enables Kali Linux end users to operate and locate the tools needed, in their native language.
Supporting a wide range of wireless devices – Kali Linux has been designed to support as many wireless devices as possible. This will allow it to be run effectively on a wide variety of hardware and will make it compatible with various USB and other wireless devices.
Having a custom-kernel, which is patched for injection – Kali Linux kernel has the latest injection patches. This is included for penetration testers who will have to do wireless assessments.
Filesystem Hierarchy Standard (FHS) compliant – Kali Linux is compliant to FHS standard, and this allows its users to easily locate binaries, support files, libraries, etc.
Having GPG signed packages and repositories – GPG (GNU Privacy Guard) is a suite of cryptographic software used to encrypt or sign data and communications to ensure its authenticity. Every package and repositories in Kali Linux is signed by each of its developers.
Having robust ARMEL and ARMHF support – ARMHF is an architecture mostly used in mobile devices and netbooks. It is commonly known as ARM or Acron RISC (Reduced Instruction Set Computing) Machine. ARMEL is ARM architecture emulator. Kali Linux is available on a wide range of ARM devices and has ARM repositories integrated with the mainline distribution, so tools for the ARM are updated in conjunction with the rest of the distribution.
Since
Kali Linux
is tailored for penetration testing, documentation on its site demands prior knowledge in Linux. However, developers recommend
Kali Linux
users to extensively test its features before using it for real-world forensics.