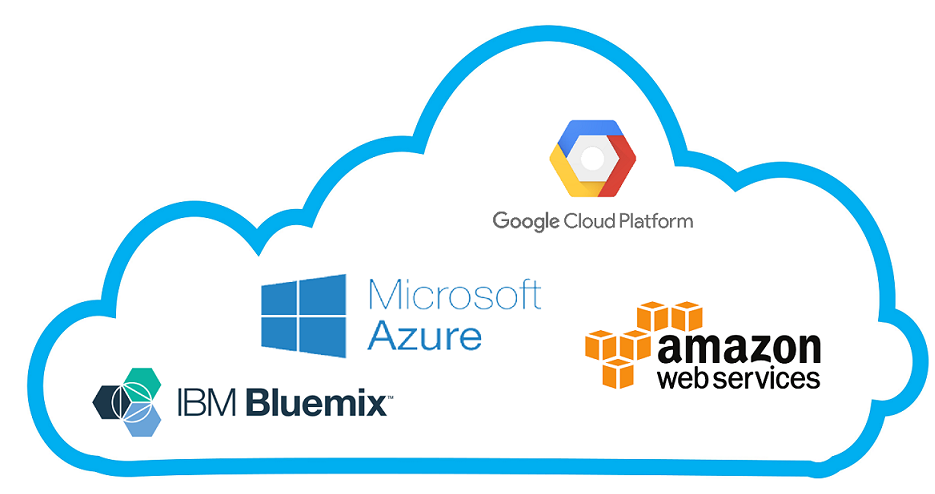 Cloud Computing is the delivery of on-demand computing resources (computer power, database storage, applications as well as other IT resources) over the internet. This is achieved by using a network of remote servers hosted on the internet rather than a local server/personal computer. A cloud service is any service made available to users on demand via the Internet from a cloud computing provider's server as opposed to being provided from a company's own on-premises servers. Infrastructure as a Service (IaaS), Platform as a Service (PaaS) and Software as a Service (SaaS) are the three categories of cloud services. Cloud service platforms provide the above-mentioned services.
Let's look at today's major cloud service platforms :
Amazon Web Services (AWS) – It's a comprehensive, evolving cloud computing platform provided by Amazon. AWS delivers a mix of IaaS, PaaS, and SaaS.
Microsoft Azure (formerly known as Windows Azure) – It is Microsoft's public cloud computing platform. It provides a range of cloud services through a global network of Microsoft managed data centers.
Google Cloud – Google Cloud Platform is the suite of public cloud computing services by Google. It runs on the same infrastructure that Google uses internally for its end-user products, such as Google Search and YouTube. This includes a range of hosted services to compute, storage and application development that run on Google hardware. Google Cloud Platform services can be accessed by software developers, cloud administrators and other enterprise-IT professionals over the public internet or through a dedicated network connection.
IBM Cloud (formerly known as IBM Blemix and  IBM Softlayer) –  Cloud computing services from IBM which offers PaaS, SaaS, and IaaS. With IBM Cloud IaaS, organizations can deploy and access virtualized IT resources such as compute power, storage and networking over the internet. For compute, organizations can choose between bare-metal or virtual servers.
Alibaba Cloud – Subsidiary of Alibaba group which provide a suite of cloud computing services that covers elastic computing, object storage, relational database, big data analysis, and artificial intelligence in fifteen geographical regions around the globe.
Oracle Cloud – Cloud service offering from Oracle Corporation. This provides servers, storage, network, applications and services through a global network of Oracle's managed data centers. Here, services are provided over the internet, on demand.
Major cloud services from the above-mentioned platforms come under SaaS, PaaS and IaaS offerings. There are also other cloud providers who specialize in some part of this enterprise software stack. Nowadays enterprises are combining the large public cloud providers along with a specialist. Example, Salesforce has partnerships with Amazon Web Services, Google Cloud Platform and works with IBM too. On-demand financial and human capital management software vendor, Workday and IBM are closely linked on many fronts.
The cloud platforms mentioned here provide most of the same services, some have better quality, different prices, and different options. Stacking them up depends on each enterprise's needs.
Here, we can see the comparison between each of the above cloud platforms in general :
Public Cloud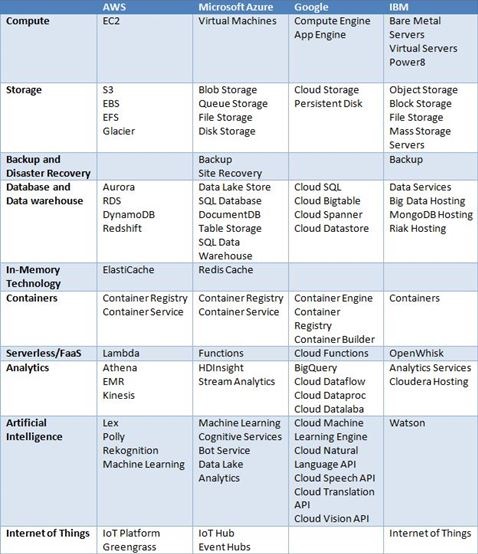 Along with the above features, there is a need to consider these important factors while purchasing a cloud service:
Historical usage (by region, instance family, etc.).
Steady-state usage vs. part-time usage.
Future plans for: Growth or Decline in usage, Changing cloud provider, Changing instance, families, Moving regions, Shifting to another computer-model (like containers, serverless architecture, etc.).
The balance between savings over time and cash payments up front.
Level of flexibility required.
We can see the current market share by the leading cloud providers here: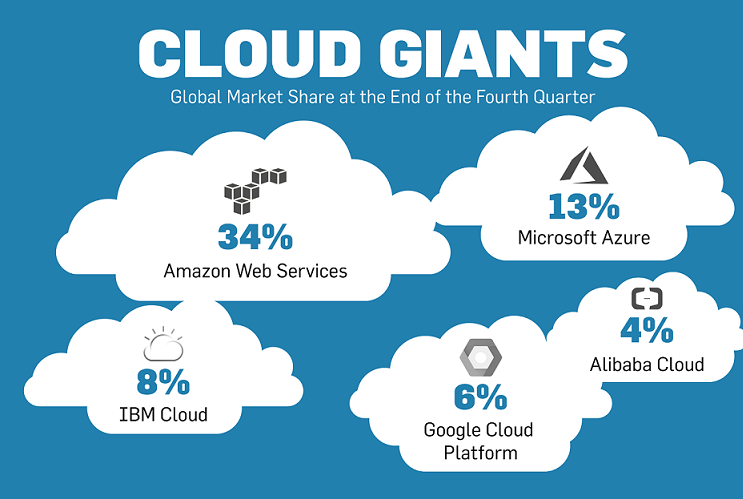 Amazon leads this market while Azure, IBM & Google cloud is among the favorites. Alibaba and Oracle cloud is also catching up, while Rackspace and Salesforce are going strong in their niche markets.
See competitive positioning :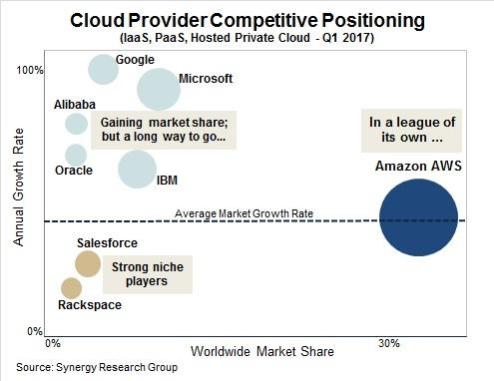 Today, enterprise cloud adoption has increased in a great deal. See the growth rate (in percentage):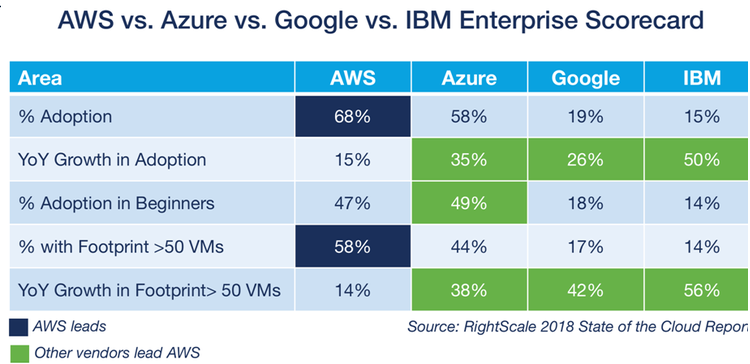 For every enterprise, the huge responsibility for IT infrastructure can be drastically reduced by moving it to a suitable cloud, with robust security. This will surely enable enterprises to be more focused on their core goals and be efficient, resulting in profitability.