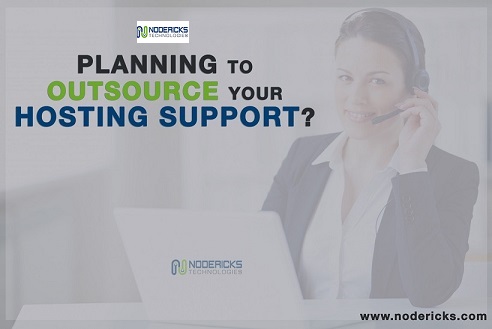 99.999% up-time is the goal of any hosting service provider. As per theories in networking, 99.999% availability (Five 9's) is associated with an yearly downtime of just 5minutes. Five 9's is the highest possible efficiency for any hosting service provider resulting in huge business advantages for their clients.
Every hosting service provider need to have a support team. Today, technology is changing in an unimaginable speed, alarmingly increasing security threats over internet. This makes the need of hosting support a necessity for any IT infrastructure system. So, in today's IT world, an efficient hosting service providing includes support – in other words, hosting support is not different from hosting service providing today.
Today's smart hosting service includes support by incorporating some business strategies which guarantee efficiency. Let's have a look at these strategies :
Being proactive against security threats – As told above, internet is a world of security threats. So, an efficient hosting service will always be equipped to guard. On having a threat, automatic protection will be ensured by  this proactive hosting service, which assumes that chances of security threat is not null.
Round the clock availability – Websites works 24/7; issues coming outside usual business hours too need to be addressed in no time. Otherwise, it can adversely affect any business relationship. This makes it a must for a smarter hosting service to be always available; without any exceptions.
Implementing a good response time – Be responsive within the minimum possible time to the client's requests & always keep it. Work hard to reduce the response time to the lowest. Inability to implement a good response time is worse than not having a 24/7 support. Remember, 24/7 support can only be achieved by the implementation of a guaranteed response time.
Being reachable – Efficient hosting service must be reachable via the medium which is convenient to its customers. i.e. Their customers can readily reach the respective team members via any communication channel. To be smarter, be reachable via a wide range of communication  channels – live chat, telephonic call,email, tickets –  be ready for it.
Technological excellence – Be adept in understanding technical issues as well as solving them quickly. Create a learning culture in the technical team; make them always technically updated.
Effectiveness in communication – To implement all the above five strategies, effective communication is a necessity. There will not be any meaning in the technological excellence if the team is unable to handle a customer. Keep the technical staff trained to make them adept in communication; soft skill development should also be done to make them able to deal with the clients in a proper manner. Nothing can beat a technically adept team with good customer interaction skills.
All these six strategies can be set as standards of hosting service excellence.
But is there a provider who is in line with these standards?. Yes, we at NODERICKS (Hosting support wing of VIPoint India) provide 24/7 hosting support services through an efficient 3 shift operation. Our clients get in touch with us via email / IM / phone on need.
By the English vernacular training provided, our technical team is able to clearly understand & take care of clients , without communication problems like 'indianism' or broken English.
Most of our technical staff are Red Hat / Microsoft certified System Engineers OR Microsoft Certified System Administrators (MCSAs); they also have cPanel Certification in addition.
We give a competitive pricing plan as per client requirements.
There is also a trial period offer during which new customers can avail our services for free to review & analyze the performance.
To know more about us , please visit our website .
Hope we will have the pleasure of working together.