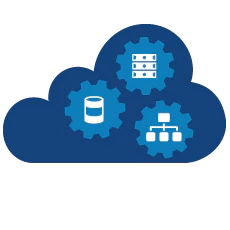 Virtualization is the technology of creating virtual (digital replica of something real) version of  servers, storages, operating systems, network resources, etc.. Cloud computing is the delivery of computing services – servers, storage, databases, networking, software, analytics & more – via Internet. Virtualization is a software that manipulates hardware, while cloud computing refers to a service that results from that manipulation. Cloud computing is achieved through server virtualization.
Three types of cloud computing exists. They are,
Software as a Service (SaaS) – In SaaS, applications / softwares will be stored in cloud & they will be accessed by end uses when needed.
Platform as a Service (PaaS) – In PaaS, developers can build, run & manage application on a patform inside a cloud.
Infrastrcuture as a Service (IaaS) – These are virtualized servers running at a service provider instead of the end user's own data center. Examples are Amazon Web Services (AWS), Rackspace, and VMware vCloud providers.
VMware Inc. was founded by Diane Greene, Mendel Rosenblum, Scott Devine, Edward Wang and Edouard Bugnion in 1998 and is headquartered in Palo Alto, CA. VMware leads the virtualization market today. VMware offers a range of products coming under their brand vCloud, which gives cloud computing solutions.
vCloud providers are third-party companies that offer infrastructure as a service (IaaS) solutions. These providers run the VMware vCloud Suite and allow you to move your existing VMware vSphere virtual machines to their infrastructure clouds. Also, you can use the VMware vCloud Connector to connect your internal vSphere infrastructure with their vCloud data centers.
VMware rebranded its vCloud service as vCloud Air in 2014. And in 2017, VMware vCloud Air has been acquired by OVH, one of the world's largest cloud providers having more than 1.3Million customers, including fortune 500 giants as well as world's top educational institutions. Now, this product will be known as VMware vCloud Air powered by OVH, bringing in OVH global infrastructure ecosystem  to vCloud Air customers. vCloud Air has been designed for enterprise-level needs as well as to deliver secured, hybrid infrastructure.
Relying on a hybrid environment – on premise as well as externally hosted hybrid environment – vCloud Air has been serving industry leaders. Thus it can help businesses of any size to support for Disaster recovery, Data center extension, Data center replacement. Now, being vCloud Air powered by OVH, it comes with additional capability by highly scalable OVH products.