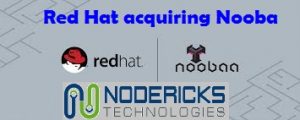 Soon after Red Hat's acquisition by IBM, Red Hat is now acquiring Noobaa. These two moves are related and have been seen as an excellent business strategy, to gain technological advantage.
The worth of IBM's Red Hat acquisition was 34 billion dollars. In turn, Red Hat is acquiring Noobaa, which is a company specialising in hybrid-cloud data-storage. From this, it is pretty clear that these acquisitions are aiming competitive edge through hybrid-cloud cloud technology.
Noobaa's primary offering is an open source software in the same name, which puts a virtual layer over private and public cloud storage resources.  This open source software has three basic components are,
'Access Node' (The switching point in the network, enabling end-user access) – Handles data chunking, deduplication, compression and encryption between storage resources.
'Storage Daemon' – Presents server storage, as storage node.
'Virtual Machine (VM) based core' – For data placement, self-healing and monitoring.
A 'data plane' (also known as 'user plane', 'forwarding plane', 'carrier plane' as well as 'bearer plane'. It is that part of the cyber network through which user data packets are flowing.) will be made by 'access node' and 'storage daemon' where the control plane will be provided by the 'VM based core'.
This multi-cloud storage management from Noobaa enables its end-users to manage, deploy, and migrate data storage across private and major public clouds (Example – Alibaba, AWS, Azure and Google Cloud).
Through this acquisition, Red Hat aims to give their customers a way to manage storage without much concern on multiple platforms.
Check out the following articles from us, for more details
IBM's Red Hat acquisition: https://www.nodericks.com/ibm-to-acquire-red-hat-overview/
IT Business Partnerships: https://www.nodericks.com/business-giants-coming-together-technological-excellence/
Hybrid Cloud: https://www.nodericks.com/cloud-computing-hosting/