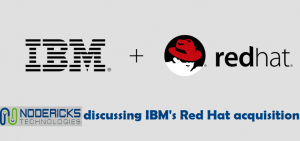 IBM's announcement to acquire RedHat – the open source distribution giant – hit the headlines on last Sunday. This deal was done at a premium of more than 60% and its $34 billion price tag shook the cyber world. Due to revenue-decline for some years, IBM needed plans to efficiently boost its key business performance. Even though short-term earnings and bidding wars are raising questions, IBM does not seem to expect a positive impact on its revenue through this acquisition for at least 2 years.
Motives of this business move have been seen differently by various sources. Let's look at some major ones among them:
MD of Nomura Securities, Jeffrey Kvaal told that as per them, the key behind this acquisition is 'OpenShift' (Red Hat Linux container software). IBM's ability to migrate enterprise workloads to and between various clouds like AWS, Google, and Microsoft Azure can be accelerated through 'OpenShift'. And, that even though costly, they hope this acquisition to work well both financially and strategically. Mr Kvaal also terms, that this deal is 'As transformative as it gets'.
MD and Equity Analyst of Technology Sector at Wedbush, Dan Ives expressed that through this deal, IBM showed cloud giants like Amazon (AWS), Microsoft (Azure) and Google (Google Cloud) that it is an aggressive competitor in enterprise hybrid cloud shift. Mr Ives also told that they believe this combination of Red Hat Linux cloud with IBM cloud is going to lead cloud technology in future & termed this acquisition as 'Game Changing'.
Analyst of BMO, Keith Bachman told they are surprised to know that Red Hat would sell and, also expresses this as a necessary strategic business move for IBM because it lacks a meaningful product portfolio, even with so many cost cuts. Mr Bachman adds the risk associated with this to be IBM's mixed track record on integrating and managing purchased product companies.
Equity Analyst of Jefferies, John Difucci told they doubt this acquisition to have a negative impact on Red Hat's business. And, also adds that Red Hat's very identity – neutrality to all hardware vendors – as an operating system vendor has been questioned through this deal.
From all these, we can state that in general, this deal seems to be a strategic business move from IBM for technological excellence to gain a competitive edge in enterprise cloud business. There is also a general opinion that there can be a possible negative impact on Red Hat's business. Overall, it's sure that this acquisition will bring in a technology revolution, especially in the field of enterprise cloud. But, we need to wait for a little to see the impacts because this deal will get closed only by 2019.